Your Ultimate Guide to Frizzy Hair – What Causes Frizz and How to Tame It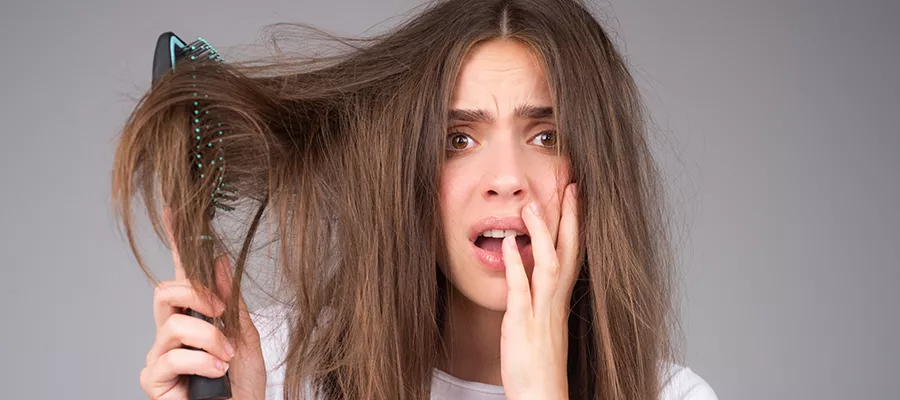 Sleek hair, gorgeous curls, luscious waves. Don't we all love them. But when it comes to frizz, we totally understand if there's a love-hate relationship going on. After all, it can be frustrating to see your carefully styled hair go *poof* in humid weather.
There's nothing wrong with frizzy hair though. Those dry strands that stick out and won't stay put are completely natural. Even if you're not exactly thrilled about frizz, there ARE ways of managing it.
That's why we've compiled a list of useful tips and tricks to help you smooth the frizz and tame those flyaways. In this complete guide to styling and managing frizzy hair, let's first understand what causes the frizzy chaos. Let's dive in.
What Causes Frizzy Hair?
Frizzy hair happens when your hair's cuticle layer is raised instead of flat. When the cuticle layer is unsealed, it's difficult for the hair shaft to retain moisture. This causes hair to swell and frizz out.
Some of you can blame your genes for that unruly frizz. If you have naturally curly hair, which tends to hold less moisture, you're more frizz-prone than those with straight locks.
Hair damage due to external factors like heat, humidity or sunlight can also lead to loss of moisture. This worsens frizz, especially for those with normal or fine hair types.
What else? Chemical treatments like hair colours and perms, as well as heat styling appliances, can suck out the moisture from your hair. That's when you get the puffy, fried-hair look.
Indeed, there are many factors that can dry out your hair and exacerbate frizz. This includes common, everyday activities which you're probably guilty of. We'll give you the lowdown on these so you can change up your daily habits to combat frizz!
Showering in Steaming Hot Water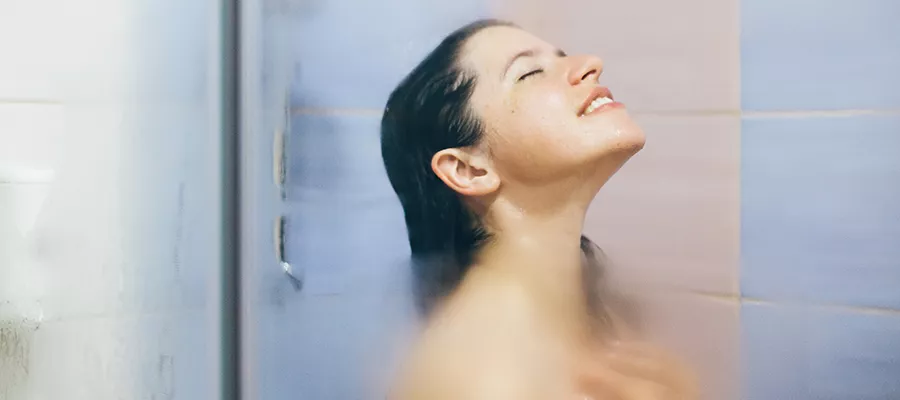 A steamy hot shower may feel relaxing after a long day, but it can also be the cause of hair damage. All that heat lifts up your hair cuticles, allowing moisture to escape. This leaves your hair dehydrated and frizzy.
Hot showers may be off-limits, but that doesn't mean you should only take cold showers to keep yourself frizz-free. The best option is the middle-ground. Turn the temperature down a notch and go for lukewarm showers. That way, you avoid the steam and humidity which strips off the moisture from your hair.
Letting Your Hair Dry Naturally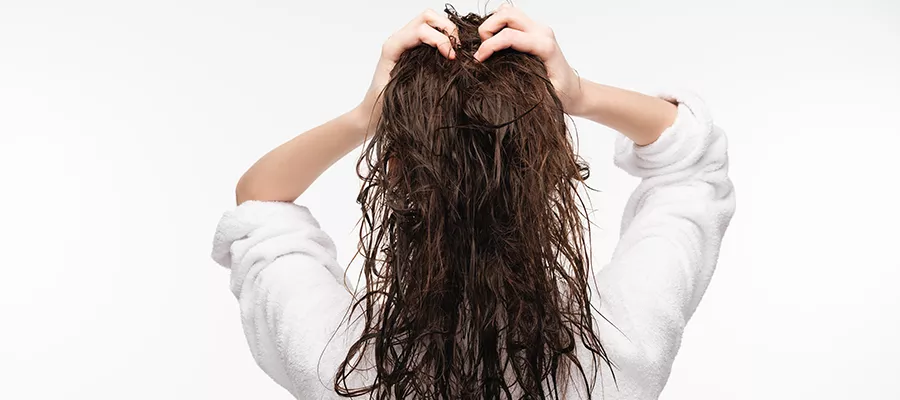 Some of you may prefer the au natural route of drying your hair. But did you know that leaving wet hair to air dry naturally for hours may not be ideal as your cuticles are left open? The sooner your cuticles close up, the less moisture your hair will lose. The best solution is to gently towel dry your hair before using a hair dryer to fully dry your hair.
A reminder: don't rub your hair vigorously with the towel as this added friction can disrupt the cuticle further and aggravate frizz. Attaching a diffuser to the end of your hair dryer can disperse air more evenly and reduce frizz. One last tip: before you use the hair dryer, apply a leave-in treatment so you can lock in moisture in your hair.
Using Harsh Hair Products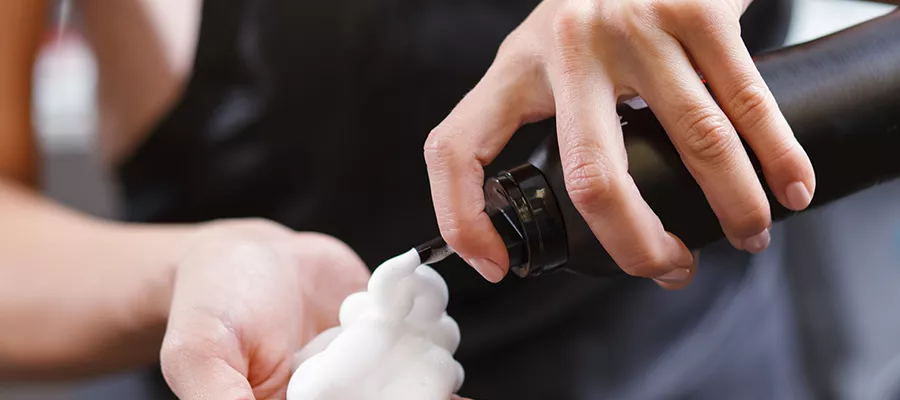 Not all hair products are created equal. Those with harsh formulations can leave you with less healthy hair. Chemicals such as alcohol or sulfates can cause dull and dry hair as they strip your hair of its natural oils. Hair colouring, hair bleach or even perms that come with high ammonia content can damage your hair's surface, making your hair rough, brittle and frizzy.
So be more discerning about the hair products you buy. How about going for sulfate-free shampoos and conditioners, alcohol-free hair gels, moisture-locking hair oils or ammonia-free hair colouring? Ultimately, choose something that's suitable for your hair type.
Over Styling Your Hair with Heated Appliances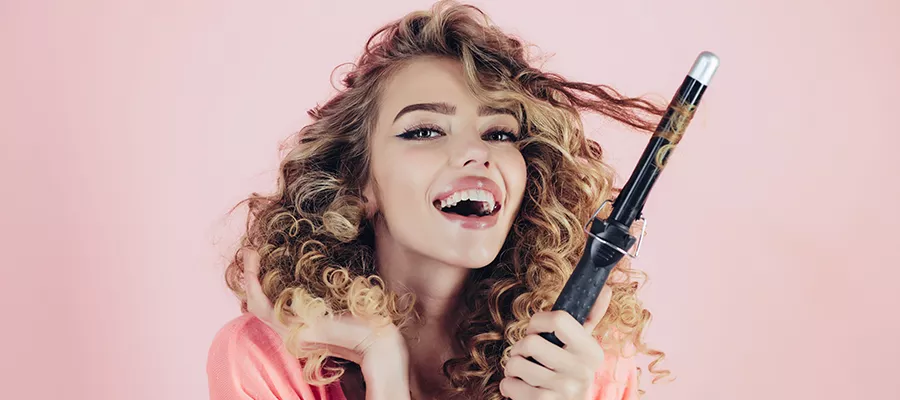 Everyone loves a salon-quality hair style. You've probably used a hair dryer, curling iron or straightener to recreate those cool waves, sexy curls or sleek straight hair at home. But constant styling with heated tools can damage your hair. Don't be surprised if your hair ends up being dry, frizzy and full of split ends.
Still, we totally understand if you can't give up your hair styling arsenal. To keep frizz to a minimum, use your heated hair tools less frequently and dial down the heat settings. Don't forget to apply a heat protectant spray.
Making Hair Brushing Mistakes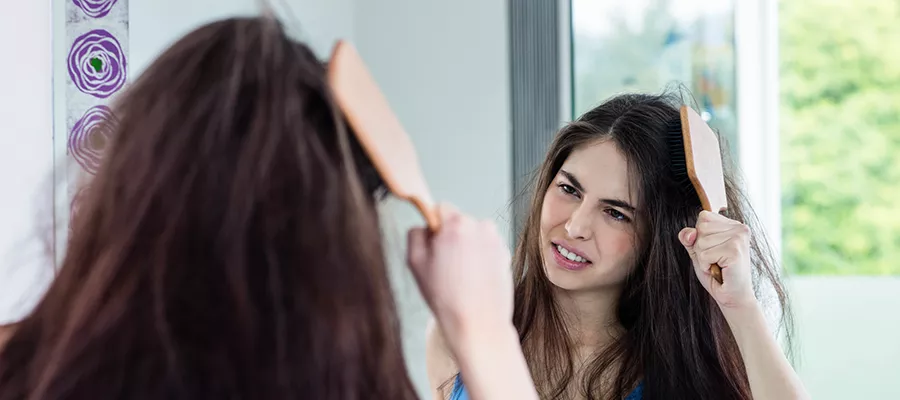 Hair brushing mistakes are all too common. If you've neglected to brush your hair, you'll end up making your hair frizzier with all that tugging and pulling when you finally want to untangle the knots. On the other hand, if you overbrush your hair when it's dry, this could disrupt your hair cuticles and cause frizz.
So be sure to untangle your hair after a shower. Gently comb through wet hair with your fingers, then follow up by combing your hair when it's semi-dry. Oh, and do use the right kind of brush. A brush with boar or nylon bristles, which is softer and gentler on hair, can detangle hair more easily.
How to Tame and Manage Frizzy Hair
Let's get things straight – frizzy hair doesn't have to be a buzzkill to your beauty routine. So here are some frizz-controlling tips and tricks that'll let you have an easier time managing and styling frizzy hair.
Go for Regular Trims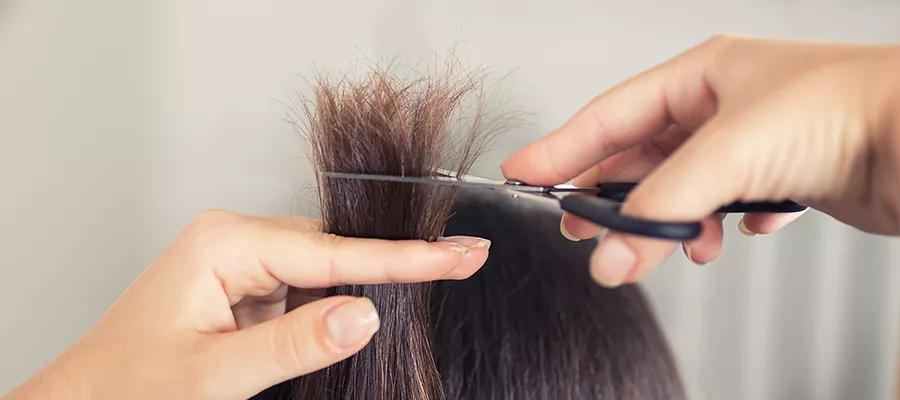 Keeping split ends and dead ends at bay is key to preventing frizz. To prevent the dry, straw like texture on your hair ends from fraying even further, go for a trim every six to eight weeks. If you feel the urge to run your fingers through your new haircut or fiddle with your hair, don't do it! This only creates more frizz.
Follow a Frizz-Fighting Hair Washing Regimen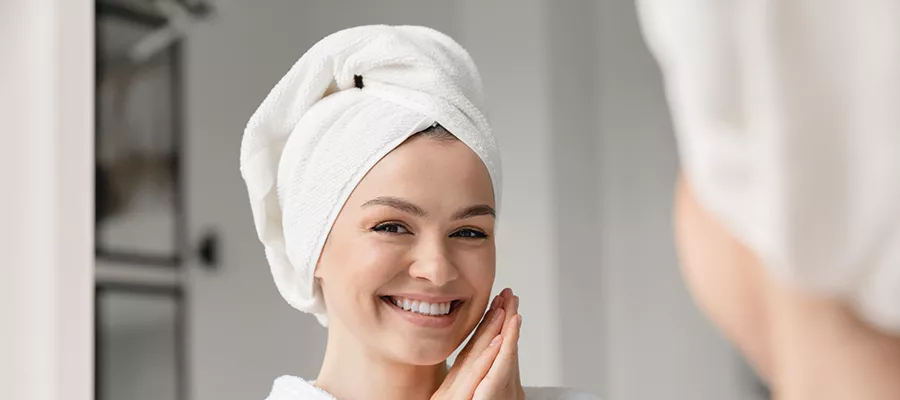 To tackle frizz, change up your daily habits in the shower. Wash your hair with room temperature or lukewarm water to prevent heat damage. To defeat dryness and reduce frizz, use a shampoo that contains hydrating ingredients such as glycerine and shea butter. Get one of those specially-formulated anti-frizz shampoos and conditioners.
Don't forget to swap your cotton towel for one that's made out of microfiber. This material is kinder to your hair - it's more absorbent, reduces friction and prevents hair tangling. Using one can greatly reduce frizz. Avoid rubbing your tresses aggressively with the towel. Instead, wrap your hair in a towel turban and let the microfiber material absorb the water. But before that, first detangle your wet hair with a wide-bristled comb.
Apply Hair Masks or Leave-in Treatments to Tame Frizz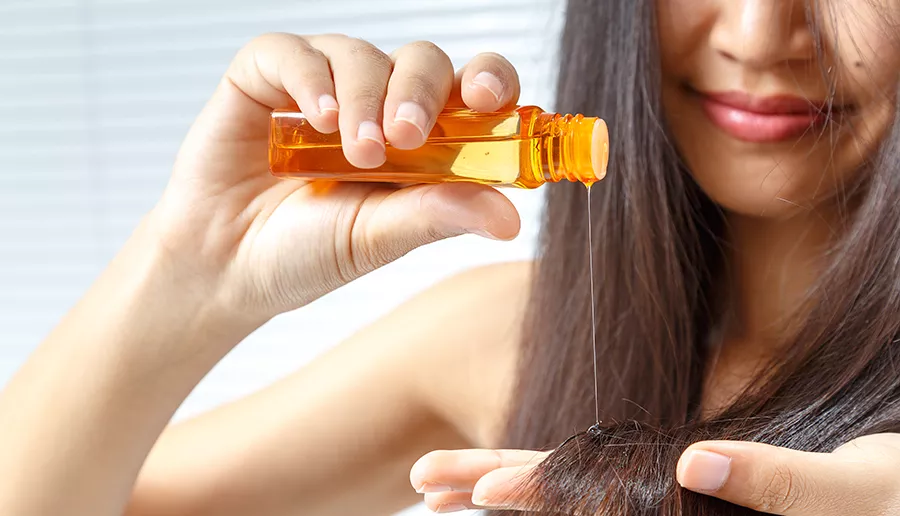 A lack of moisture is the main cause of frizzy hair. And a frizz-busting remedy for hair that's thirsting for moisture is to apply a hair mask or leave-in treatment.
A nourishing hair mask works on a deeper level by smoothing breakages and intensely conditioning your hair. Opt for a hair treatment mask with moisture-rich ingredients like argan oil or coconut oil. Apply the hair mask from the mid-shaft to the tips of your hair to enjoy soft, silky-smooth hair.
A leave-in treatment can also offer you further protection against frizz. These are usually infused with moisturising ingredients such as argan oil, rosemary oil or jojoba oil that are beneficial for thick and frizzy hair. Apply the treatment after your shower and let it work its smoothing, shine-inducing magic. Your hair won't feel greasy at all. Be sure to add this to your frizz-beating hair care routine.
Shield Strands from Heated Styling Tools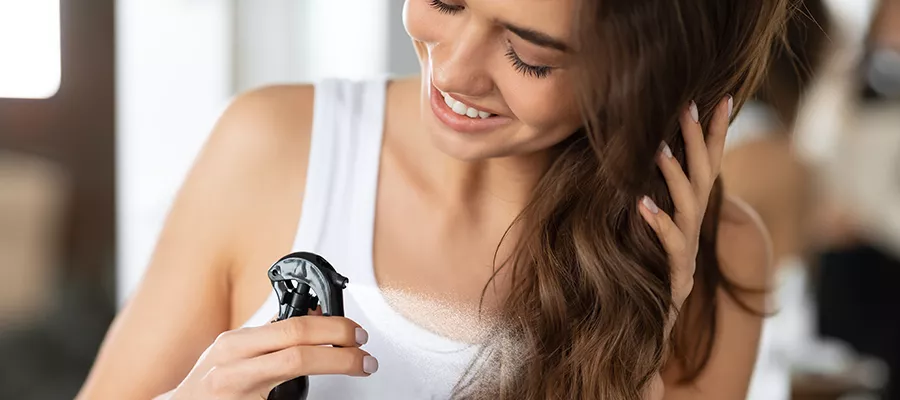 Can't help but reach for heated styling tools to style your hair to perfection? Those heated irons or curlers can damage your hair. So, here's a solution: use a heat protection spray to defend parched strands against high temperatures. This will prevent your hair from getting all frazzled and frizzy.
Use a Hair Styling Stick to Tame Flyaways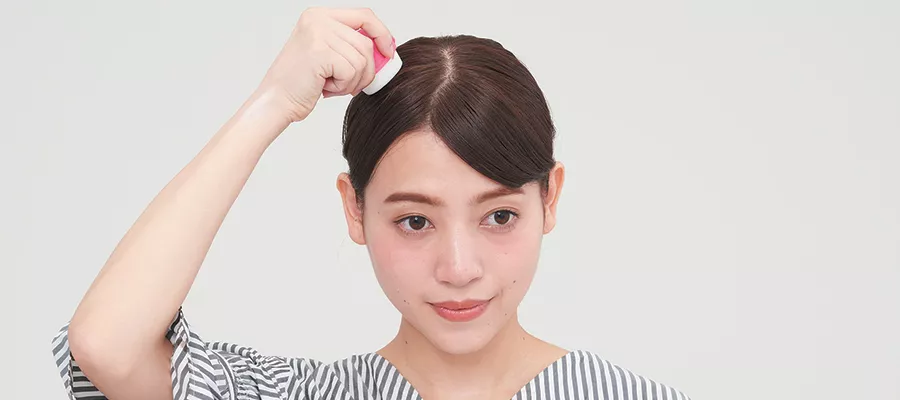 Have you ever spent time creating your favourite hair style only to have flyaways ruin the sleek look you are aiming for? We know how frustrating it can be trying to smooth down wispy strands that won't stay in place.
So here's an inside tip: use a hair styling stick to instantly fix flyaway hair and frizz in one simple step. Gently slick down your hair with the hair styling stick for a neat, non-sticky appearance with long-lasting hold. Bonus points for it being compact and portable! Here's to effortless styling on-the-go!
Use the Right Brush to Control Frizz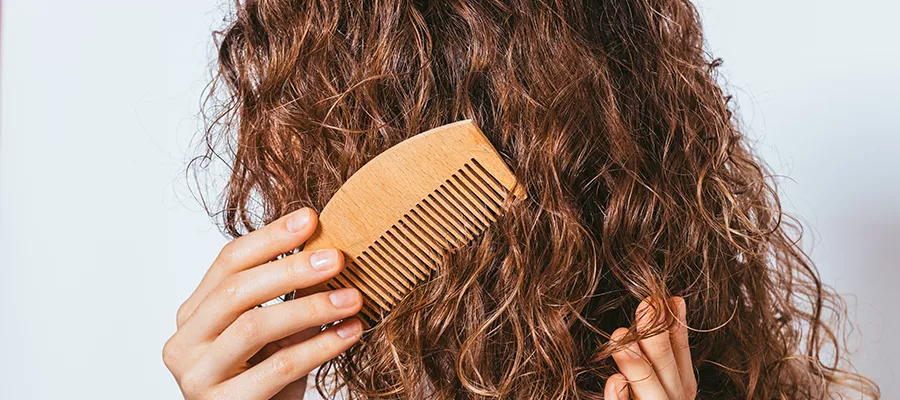 The right brush can make all the difference when it comes to smoothing out hair and taming flyaways. Use one that's suited for your hair type. Extra-soft boar-bristle brushes work best for straight, fine hair as they're gentle and can distribute the scalp's natural oils to the hair strands. If you have thick, coarse hair that's prone to tangles, go for a wide-tooth detangling comb. This will help you tackle knots and snarls while keeping frizz at bay.
Sleep on Silk Pillowcases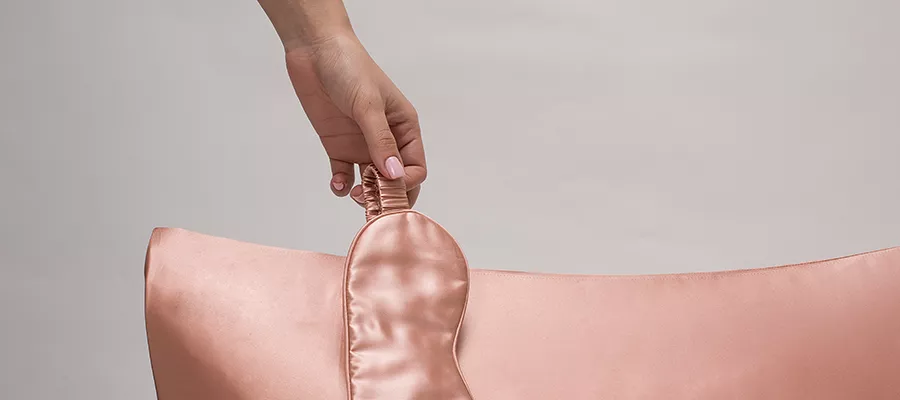 Do you wake up with A.M. hair that's full of frizz? Chances are you've been sleeping on cotton sheets. Friction from the cotton can lead to frizz, breakage and hair tangles. So why not hop on the new beauty trend of sleeping on silk pillowcases? This step may seem a bit "extra", but it could turn out to be your holy grail for winning the battle against frizz.
Thanks to the smooth, silky surface, your hair is unlikely to get snagged. Silk sheets also help to maintain your hair's natural oils – a plus point if your hair is already fragile from chemical treatments. So, go get your beauty sleep on silk pillowcases – we bet you'll be a convert in no time!
Conclusion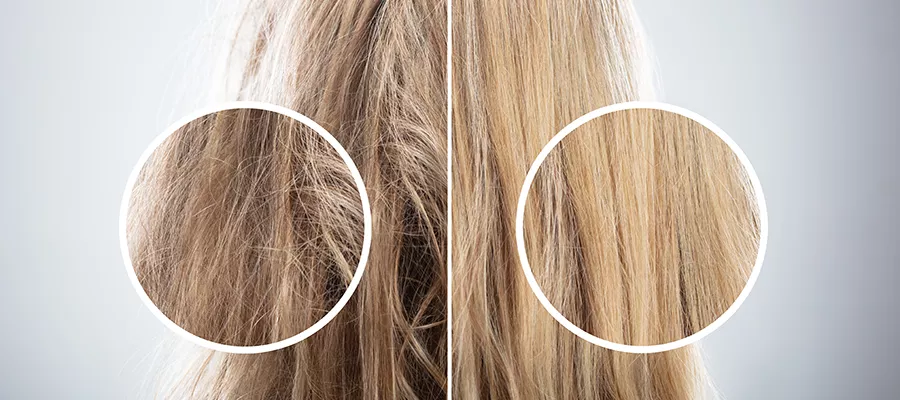 When it comes to managing your frizz hair, it's all about discovering what works for you. Sometimes, you just have to accept your frizz. But luckily, there are easy frizz-frighting tips you can try to get smoother hair, less flyaways and easier-to-style hair. Just follow our intel!